European Studies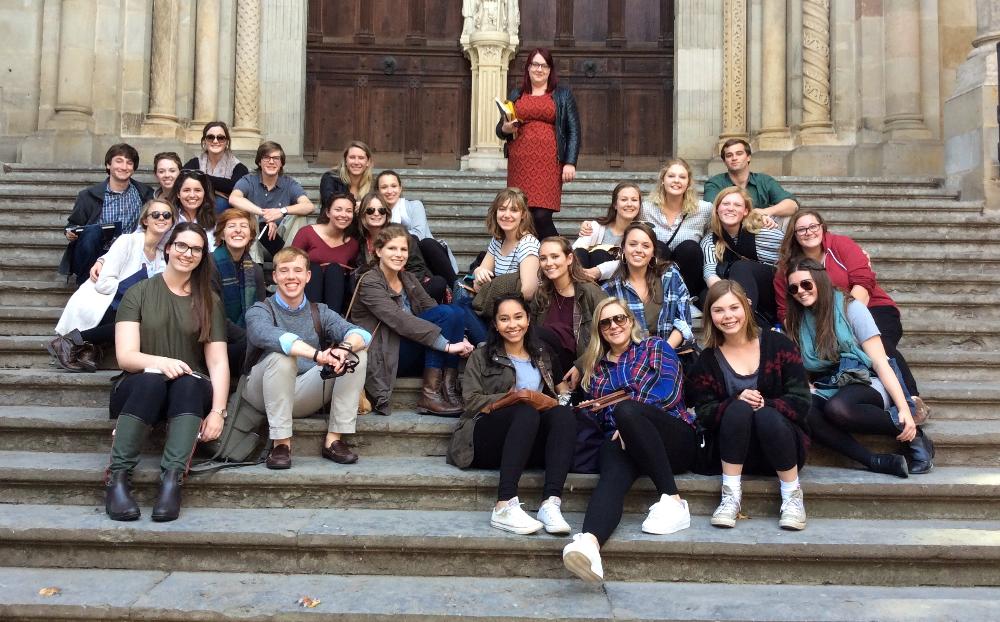 European Studies is a 16-week program offered jointly by Rhodes and The University of the South (Sewanee) that takes place from mid summer through early Fall. It is a full semester of study abroad and offers the unique experience of studying in a variety of locations in Europe. Students choose between two academic options, or "tracks" within European Studies. The two options run simultaneously in these four phases:
Fall 2018 Schedule:
1. At Rhodes: July 8-27
2. In Edinburgh, then York or Durham, depending on your option: August 3-12
3. At Oxford University, Lincoln College: August 12-September 21
4. Travel throughout Europe and in London: September 21-October 25

Both options provide a highly enjoyable experience of other cultures and other academic methods that enriches study back on the Rhodes campus. Both options provide a detailed, inter-disciplinary study of an important epoch in the history of Western European civilization. Both give students an unequaled opportunity to visit many of Europe′s greatest monuments, cities, landscapes and works of art; including a private visit to the Vatican Museums and Sistine Chapel in Rome. Participants in European Studies are offered a unique number of privileged entrances on the Continent; in Britain, students enjoy visits to a Shakespeare production at the Globe Theatre in London and to a major London ballet or opera. These special opportunities are arranged by European Studies through long-established contacts in Europe.
Curriculum
A total of 18 credits is possible for the successful completion of this program. All courses are approved as meeting major, general or foundational degree requirements in the appropriate department or division as noted. The credits are applied directly to degree requirements and are factored into the home institution grade point average.
Option One: Ancient Greek and Rome: The Foundations of Western Civilization
Option One is a broad study of the culture and thinking of Ancient Greece and Rome, intended principally for those who are not specialist classicists. It is designed to show the fundamental contribution made by the arts and science of the Ancient World to modern Western civilization.
Option Two: Western Europe in the Middle Ages and the Renaissance
Option Two is an interdisciplinary study of the literature, art and history of Europe in the Middle Ages and Renaissance. Classroom study and European travel combine to provide a stimulating and integrated approach to the rich cultural diversity of Western Europe.
Administrative Details for Both Options
Cost: Rhodes and Sewanee students pay home school tuition. Other students will be charged the Rhodes rate for tuition, room and board.
On application to the program, the student pays a non-refundable $300 deposit. Rhodes and Sewanee students pay their tuition and fees directly to their home institution, receiving any merit- and/or need-based financial aid for which they qualify.

Cost includes: All tuition; complete room and board while at Rhodes, York, Durham, and in Lincoln College; room and board in Edinburgh, on the Continent and in London; all excursions while in York or Durham, and any day expeditions from Oxford; visits to the Globe Theatre and a Royal Opera House production; all transportation in Great Britain and on the Continent; admission to museums visited for group study; an International Student Identity Card; and program health insurance.

Cost does NOT include: Trans-Atlantic airfare from the United States to Great Britain; the cost of the optional mid-term week-end in Dublin; text books; and incidental, personal expenses.
Optional Weekend Excursion in Dublin
Students participating in the Optional Weekend Excursion to Dublin pay an additional $660.
European Studies Staff
Dr. Sally Dormer, Dean of European Studies (B.A., University of Durham; M.A., Ph.D., University of London, Courtauld Institute of Art.)
Stevens Anderson, Associate Dean of European Studies (B.A., The University of the South; M.A., University of Virginia.)
Mary Allie Baldwin, Administrative Assistant (B.A. Rhodes College)
Apply to European Studies
Click

ONE

of these buttons to begin your application today.

(

PLEASE

only complete one

of the two applications - you are given the opportunity in the application to indicate your willingness to participate in either option.) The program is open to students of all disciplines in good academic and social standing. Application Deadline: February 1. Places tend to be taken up rapidly, so students with a particular preference for one of the options are encouraged to apply as soon as possible. Refer to the instructions in this online application.